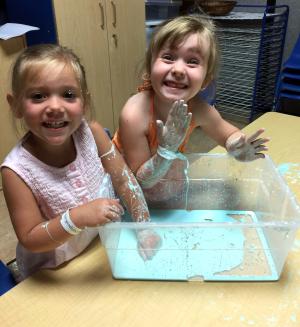 This is the fourth installment of some amazing camp lesson plans that have a proven, successful track record! This 350-page "all-in-one" book will provide you with eight fantastic camp themes, complete details on how to run the camps step-by-step down to the minute. Crafts, activities, hand-out sheets, and advertising fliers are all included. Gymnastics lesson plan not included: Summer camp themes include: 
Let's go on a Safari
I'm Going to Kindergarten
Up in Space
Under the Sea
Preschool Picasso
Down on the Farm
Planes, Trains & Automobiles
Let's Go Camping.
THIS PRODUCT IS AN INSTANT DOWNLOAD. That's right, no DVD, no book, but better yet, you can receive it within hours of placing your order. This product is only available as a digital download. This product helped Stars & Stripes surpass their annual camp earnings by thousands of dollars, making 2015 their most successful camp season yet! Tap into the preschool age market with these eight highly detailed plans, so detailed that anyone who loves working with children can follow and implement them successfully.
Customers who purchased this product also purchased